Have you ever wondered how I get such beautiful photographs of my girls in such unique locations? I am going to give you some tips- How to photograph your children while you travel. With a little forethought, it is easier than you think! I will share a few tips that I have learned along the way.
Before I had kids and became a San Diego child and family photographer, I was a first grade teacher and a world traveler. I traveled to India, Europe and Africa and South America. I would pretty much go anywhere and do anything. Which included a rope swing over the Zambezi gorge, in Victoria Falls, Africa (still the craziest thing I have done to this date).
Once I had kids I was determined to keep the adventure alive.
If you have followed me for any length of time you know that my family is very adventurous. We are off the grid a LOT! Being outside and away from it all is honestly how I recharge myself and feel happiest! We began traveling with our kids at a very young age. I took Cory to Chad Africa when she was 16 months old! One of the highlights was seeing her in a carseat on Safari.
(Tip #1 Always carry your camera. Don't rely on your phone. Phone quality is not as good and you can't enlarge a picture without losing quality.)
This can can be a pain because an SLR camera is heavy. Get a compact case and carry it in a backpack. I am not a fan of regret so I always carry my camera.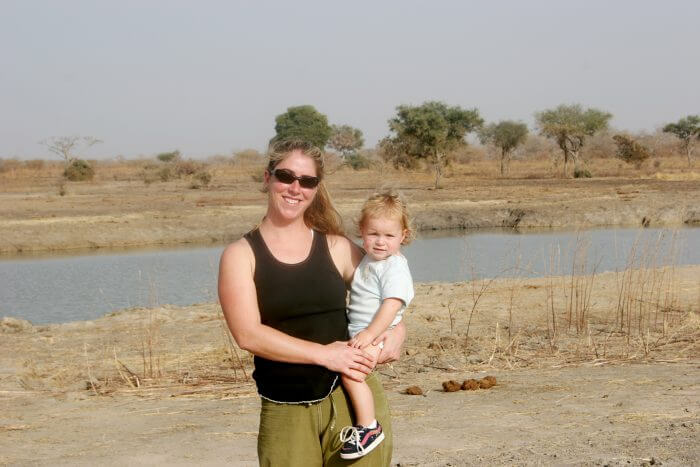 Why? Because the opportunity presented itself and I don't like FOMO (fear of missing out). Then there was the time where I took a one and three year old to China. I could go on and on about the fun adventures…
(Tip #2 Look for unique surroundings that really showcase your are out of the country.)
I became obsessed with "dirty doors" in China.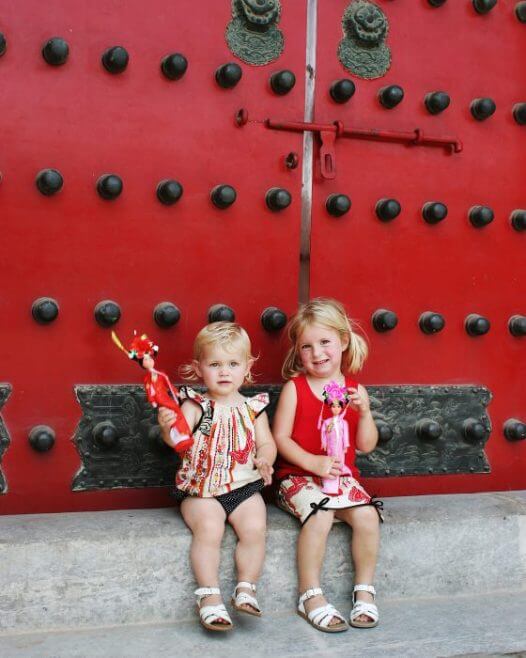 The more I explored with my girls I realized that these adventures are where the fantastic backdrops are for photos and often the BEST locations for photos. What I started to do was pack clothing that would compliment my surroundings. Before I went to China, I purchased this Asian inspired outfit from Babystyle (anyone remember that amazing store)? Then I purchased plain white dresses from the Gap. My thinking was I wanted the girls to blend in with the environment and not stick out. Their blonde hair over overseas already did that. However, for photographs I want the environment to stand out not loud clothing.
(Tip #3 Carry clothing or wear clothing that does not stand out.)
I like clothing that is simple. If Reese was wearing a flouresent pink dress that is all you would see. Clothing patterns can be distracting and lead your eye only to clothing instead of the location and child. I chose plain white so the dress would work literally anywhere.
It was by experience that I learned how to photograph my children while I travel. I literally carried these white dresses in my backpack so that I would always have an outfit to match my surroundings in China and would change the girls if a photo opportunity presented itself.
My mother thought I was nuts! I say the extra effort was totally worth it! The red dirty doors image is still on my wall 12 years later!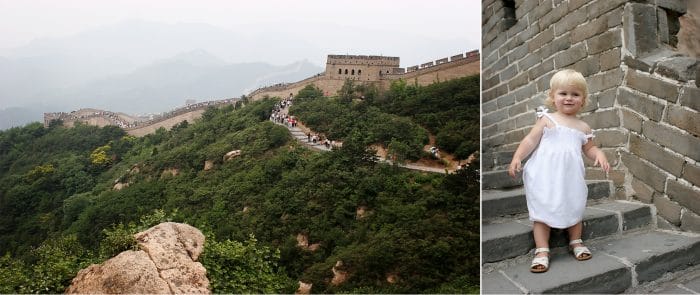 (Tip #4 Research your Destination)
Good travel photography starts before you arrive at your destination. These images were taken before Instagram and Facebook. I looked up on Google the places I was going to get an idea. Now, you can search hashtags on Instagram or Facebook. Information is usually up to date and current with hashtags.
(Tip #5 Get out there and adventure. Be present and have fun! Make memories and photographs for your walls!)